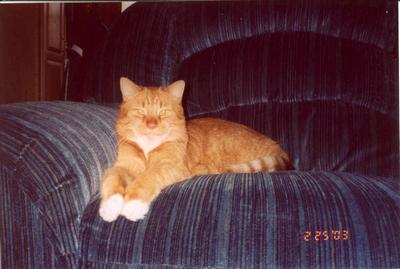 In Loving Memory of Morris
July 24, 1995 ~ April 25, 2007

Welcome

---
Phoenix heart is true
Blood of ivory pure
When in doubt or when in vain
To one's aid we will come.
~final stanza of the Vahazayi Oath
---
Let me welcome you to my little corner of the web. There's a little something for everyone: my own artwork and writing, a gallery where I store all art made for me by so many generous and wonderful souls, as well as the Vahazayi.
Vahazayi ...
Time has come for the layers of legend to be peeled away. A new age is coming, one of discoveries and understanding. It is pertinent to wipe off the dust of disuse, breathe new life into a fading mythos. Behold the Vahazayi: they are everything that Phoenixes are ... and so much more. It is thus my personal crusade to revitalize what has become old hat -- to strike down the stereotypes of songbird, unwilling immortal, fancy caged pet. Perhaps you will join me.
Read my DreamBook guestbook!
Sign my DreamBook!
My Dragon Code (version 2.6): DC2.Bp Gf L14f34w W- T Phkw'lt Skf,ls Cau,egy+,cag,lbk Bfl A Fr Nm M--- O H++ $--- Fo R++ Ac+ J+++ S U- I# V+++ Q+[telepathy] Tc+ E Df+++!

About Dragon Code - Build your own Dragon Code! - Decoder
Website © 2000-present Melissa A. Hartman, aka Crystal Shekeira; all other material © 1996-. Do not alter, copy or distribute said documents in any way.

Need the webmistress? XcrystalX_XshekeiraX@Xyahoo.Xcom (Just remove the X's).
---
We may lose and we may win though we will never be here again.
So open up, I'm climbin' in, so take it easy.
~ Take it Easy, The Eagles